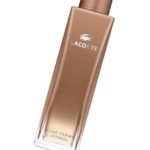 According to the Daily Mail, Lacoste's Pour Femme Intense perfume ranks number one on the list of women's perfumes that will be worn this Fall:
Top of the list for women's fragrances was Lacoste's Pour Femme Intense, which costs a purse-friendly £47 RRP and knocked Chanel's classic Coco Mademoiselle Intense into second place.

Researchers analysed data from Fragrantica, the online 'encyclopaedia of perfumes' where more than 524,000 fragrance enthusiasts review the latest scents.

They compiled a list of autumnal scents from a list of 2018's most popular fragrances and ranked them according to their average rating.

They found that woody notes were the most popular this autumn, with 80 per cent of men's fragrances and 50 per cent of women's containing them.
Read more here.