Updated 01/29/2020
Up to 90% of the Lacoste items sold on EBay and other auction sites are counterfeit, so it's important to know how to tell whether the Lacoste shirt you are about to buy is real or counterfeit. I previously wrote a short post on how to detect fake polo shirts, but this is the definitive guide. If you are trying to detect whether you have a fake Lacoste bag, see my post on detecting fake bags. For information on reporting fake Lacoste items, go to Lacoste's brand protection page. For shirts, here are the things to check:
1) Check the Logo – Most fakes have cheaply made logos with badly defined body parts. The logo should be on a white background, and stitched on from inside the shirt. You should see no stitches on the front of the shirt.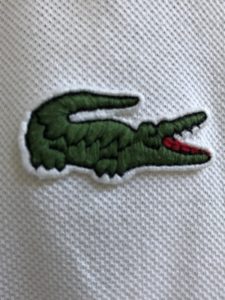 You should also see neat stitching inside the shirt outlining the crocodile. Messy stitching inside is a clear sign of a fake. Unfortunately, Lacoste has been confusing the issue recently by using multiple versions of the logo, so if your item's logo doesn't look like the one pictured above, you can check it against some of the newer versions shown on my Lacoste Crocodile Logo page.
2) Check the Logo Alignment –  The Lacoste Logo lines up with the second button of their polo shirts. Not the bottom of the placket. It is always on the left of the shirt.

2) Check the sizing – Lacoste uses numbers for sizing, not small, medium and large. There should also be a detailed crocodile on the tag.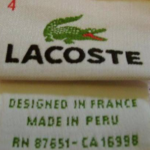 4) Check the Buttons – Real Lacoste buttons are usually mother-of-pearl. The shape is flat and slightly saddle-like in the middle. There are 2 holes for needles (on the upper and lower parts). There is usually no writing on the button. A genuine button will have a clearly defined rim around it.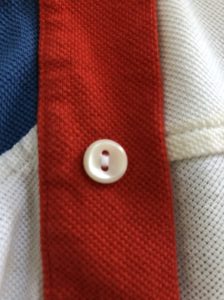 5) Check for Elevations – Men's T-shirts have small side elevations.
6) Check the Fabric – Some fakes use a hexagonal  or honeycomb weave (you will clearly see the hexagonal pattern if you look) instead of Lacoste's "petit pique" weave which is shown below.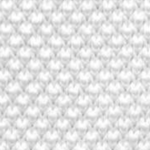 Even fakes that use a weave close to Lacoste's use much thinner fabric. So put your hand inside the shirt, and if you can see it through the cloth, it's almost certainly a fake.
7) Check the Label – On a new Lacoste shirt with an ironed on label, the Lacoste label  will look like the example shown below. Most fake Lacoste makers don't do a thorough job on the label. In particular, the lettering and logo are usually have blurred edges.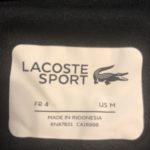 8) Check the Tag – An authentic Lacoste shirt will come with tags like the ones below. Again, this an area in which most forgers don't put in a lot of effort. If your item doesn't come with tags like the ones below, then it's not authentic.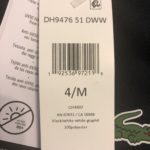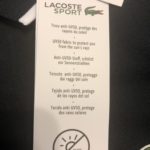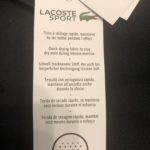 For other tips, here are some articles from the web on detecting fake Lacoste items:
http://www.moneybluebook.com/how-to-spot-a-fake-lacoste-polo-shirt-and-other-pirated-clothing/
http://how-to-know.info/how-to-know-a-fake-lacoste/
http://reviews.ebay.com/How-to-tell-if-your-Lacoste-is-Fake_W0QQugidZ10000000002999225
http://www.ehow.com/how_4723208_spot-fake-lacoste-shirt.html