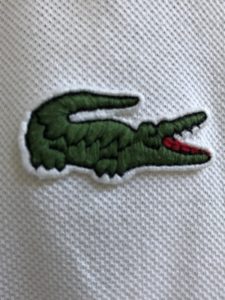 Updated: 09/30/2020
The original Lacoste polo shirt was first produced  by René Lacoste in 1933 in partnership with André Gillier, the owner and president of the largest French knitwear manufacturing firm at the time. Together, they began to produce the revolutionary tennis shirt Lacoste had designed and worn on the tennis courts with the crocodile logo embroidered on the chest.
According to Lacoste,
"A symbol of French effortless elegance since its creation, the LACOSTE polo shirt is a timeless wardrobe essential, that provides comfort and freedom of movement on and off the tennis court. With its infinite combination of cuts, materials and colors, the LACOSTE polo shirt allows everyone to create its own style."
The original polo shirt was created almost by chance. According to an interview, René gave to People Magazine in 1979:
"One day I noticed my friend the Marquis of Cholmondeley wearing his polo shirt on the court," remembers René. " 'A practical idea,' I thought to myself." It was so practical, in fact, that René commissioned an English tailor to whip up a few shirts in both cotton and wool. "Soon everyone was wearing them" (1)
It was at the 1926 US Open that René first debuted this new tennis shirt replacing the standard white pants and starched shirt with collar and cuffs that he had previously worn while playing.
The production version of the original polo shirt was created in 1933. It was named the L.12.12 where L stands for Lacoste, 1 because it was unique, 2 for the factory code for short sleeved, and 12, because the twelfth prototype was selected.
Petit Pique Cloth
Lacoste's partner André Gillier produced a unique fabric known as Petit Piqué especially for the shirt.  Petit is French for small, while Pique refers to "a weaving style, normally used with cotton yarn, which is characterized by raised parallel cords or geometric designs in the fabric" (2). Lacoste's Petit Piqué material is made from longer than normal cotton fibers bound at two different levels of tension, some tighter and others looser, to make it strong, light and breathable. You can see the unique pattern in the picture below: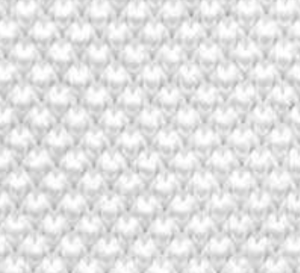 Piqué cloth was a good choice for the new shirt, because it is durable, flexible and breathes well. Gillier used fine, long fiber cotton for the shirts which have traditionally been knitted with threads extracted from the same batch of cotton. This unique cloth is still made in Troyes, France and requires a weaving machine with 2,500 needles. According to Lacoste, each shirt requires twenty kilometers of yarn.
The L.12.12 shirt produced by Lacoste today also has the following features, just like the 1933 original:
Ribbed collar and armbands
2-button placket
Mother-of-pearl buttons
And, of course, the famous Crocodile Logo. From the beginning of the company, the shirt has also borne the  logo representing Rene Lacoste, who was nicknamed "The Crocodile," during his tennis playing career. This logo is embroidered on with 1,400 stitches.
Until 1951, the original Lacoste polo shirt was only available in white. Since then it has been made in sixty-five different colors, and today it is available in  the Lacoste store in nineteen, although in a recent press release, Lacoste mentions forty colors. The shirt has always been made of one hundred percent cotton in Europe, but in the United States a cotton/rayon blend has also been used, particularly in the 1970s.
Today, it is available for men in three models:
Classic – The original L12.12 straight-fit, two button polo shirt with no pocket.
Regular – A chest and waist adjusted fit, three button polo shirt with a pocket.
Slim – A slim fit, two button polo shirt with no pocket.
For women, the following three models are available:
Classic – The original L12.12 straight-fit, two button polo shirt with no pocket.
Slim – A waist fitted, five button polo shirt with no pocket.
Slim Fit Chemise – A waist fitted, five button polo shirt with three-quarter length sleeves and no pocket.
If you are planning on buying an original Lacoste polo shirt make sure you check out my articles on detecting fake Lacoste shirts and detecting fake Lacoste bags, or my detailed discussion of how to authenticate Lacoste.