As an Amazon Associate, I earn from qualifying purchases. In addition, I may earn commissions from other affiliate programs when you click on a link to an online store.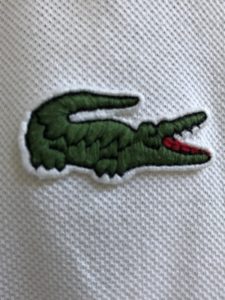 Updated: 08/11/2020
The original Lacoste polo shirt was first produced  by René Lacoste in 1933 in partnership with André Gillier, the owner and president of the largest French knitwear manufacturing firm at the time. Together, they began to produce the revolutionary tennis shirt Lacoste had designed and worn on the tennis courts with the crocodile logo embroidered on the chest.
The original polo shirt was created almost by chance. According to an interview, René gave to People Magazine in 1979:
"One day I noticed my friend the Marquis of Cholmondeley wearing his polo shirt on the court," remembers René. " 'A practical idea,' I thought to myself." It was so practical, in fact, that René commissioned an English tailor to whip up a few shirts in both cotton and wool. "Soon everyone was wearing them" (1)
It was at the 1926 US Open that René first debuted this new tennis shirt replacing the standard white pants and starched shirt with collar and cuffs that he had previously worn while playing.
The production version of the original polo shirt was created in 1933. It was named the L.12.12 where L stands for Lacoste, 1 because it was unique, 2 for the factory code for short sleeved, and 12, because the twelfth prototype was selected.
Petit Pique Cloth
Lacoste's partner André Gillier produced a unique fabric known as Petit Piqué especially for the shirt.  Petit is French for small, while Pique refers to "a weaving style, normally used with cotton yarn, which is characterized by raised parallel cords or geometric designs in the fabric" (2). Lacoste's Petit Piqué material is made from longer than normal cotton fibers bound at two different levels of tension, some tighter and others looser, to make it strong, light and breathable. This unique cloth is still made in Troyes, France and requires a weaving machine with 2,500 needles.
From the beginning, the shirt has borne the Crocodile Logo which represents Rene Lacoste, who was nicknamed "The Crocodile," during his playing career. The shirt also still has these original features:
Ribbed collar and armbands
2-button placket
Mother-of-pearl buttons
Marl cotton petit piqué
Cotton (100%)
And, of course, the famous logo which is embroidered on with 1,200 stitches.
Until 1951, the original Lacoste polo shirt was only available in white. Today it is available in nineteen colors. It has always been made of 100% cotton in Europe, but in the United States a cotton/rayon blend has also been used.
If you are planning on buying an original Lacoste polo shirt make sure you check out my articles on detecting fake Lacoste shirts and detecting fake Lacoste bags, or my detailed discussion of how to authenticate Lacoste.