As an Amazon Associate, I earn from qualifying purchases. In addition, I may earn commissions from other affiliate programs when you click on a link to an online store.
Updated 12/01/2020
The Origin Of The Lacoste Logo
A lot of people think the Lacoste logo is an alligator, but it's not: it's actually a crocodile. It represents Rene Lacoste, who was nicknamed "The Crocodile," and it has appeared on Lacoste's shirts from the beginning of the brand.
The story of the "Crocodile" begins in 1923 after a bet that René Lacoste had with the Allan H. Muhr, the Captain of the French Davis Cup Team, who promised him an alligator suitcase if he won an important game for the team. This episode was reported in an article in the Boston Evening Transcript. Reportedly, American fans latched onto this nickname due to the tenacity Lacoste displayed on the tennis courts. A drawing of a crocodile, from 1926, by Robert George, a friend of Lacoste's, formed the prototype for the logo.
Lacoste actually sells t-shirts with this original logo. Whatever the version, the shirt with the crocodile logo became extremely popular, although, In an interview with Associated Press, René Lacoste seemed at a loss to explain it:
"There are kinds of things that just don't have any good explanation," he said. "I suppose you could say that if it had been a really nice animal, something sympathetic, then maybe nothing would have happened. Suppose I had picked a rooster. Well, that's French, but it doesn't have the same impact."(1)
Lacoste's Crocodile Copyright Defense
Lacoste has copyrights on the crocodile logo in both the United States, Europe, and many countries in Asia and Africa, and they are very vigilant in defending their copyright. For example, in 2018, the Dutch company Hema came out with clothing bearing images of a crocodile that was similar to the Lacoste Logo. Lacoste sued, and eventually, the court ruled in favor of Lacoste. A key part of the case was market survey data that showed that thirty percent of consumers thought that the Hema clothing was actually Lacoste.(2) That's how much the crocodile is associated with Lacoste.
Lacoste Crocodile Logo Variants
While the majority of Lacoste logos are the traditional green crocodile, as shown in the vintage ad below, it also comes in other forms and colors, particularly on bags and t-shirts. Moving away from the traditional green was a big decision for Lacoste, as their head of design noted, in 2006, "Because of counterfeiting, and because customs officers would lose their Latin, it is strictly forbidden The logo only exists in green and gray"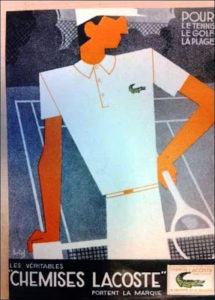 Occasionally, Lacoste used variants of the main logo Here's an example of a logo from a 1970s advertising campaign

Some contemporary examples of the variations of the Lacoste crocodile logo that appear on Lacoste luggage are shown below: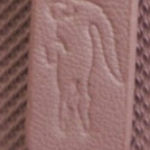 Occasionally, Lacoste does special versions for a limited time for a particular campaign. The example below is for their collaboration with Jean-Paul Goude in 2016: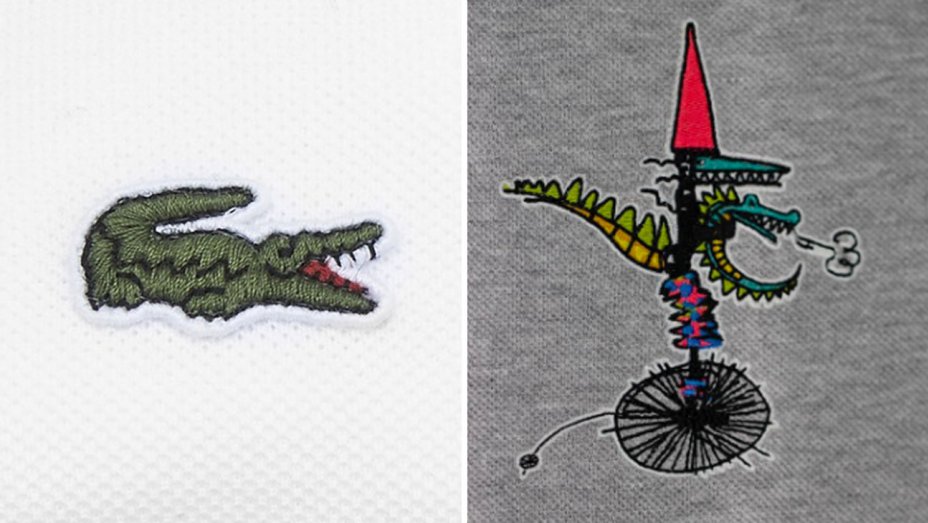 And, here's the logo they did for their collaboration with Ysy in 2020: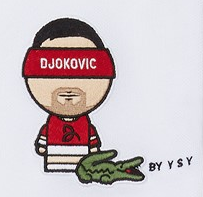 Lacoste also recently replaced the crocodile logo with ten endangered species for a limited time: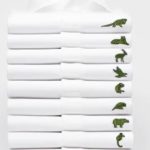 For their reissue of classic designs on their 85th anniversary, Lacoste used a new label: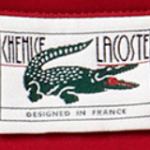 For newer sports shirts, Lacoste is using a rubber crocodile logo: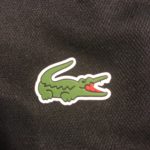 In November 2019, Lacoste launched a new logo for their Croco-magic line: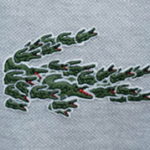 Lacoste Heritage Badge polo shirts, use a different front logo, but also add an original crocodile log on the back of the shirt:
In 2020, Lacoste released shirts with national flag versions of the logo. Below is an example of the American Flag version: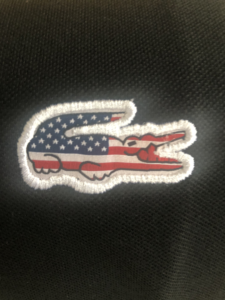 As part of their Lacoste X National Geographic collaboration, Lacoste released several animal print logos like the one below:

If you are afraid that your Lacoste shirt is a fake, examining the logo is a great way to tell. See my page on detecting counterfeit Lacoste or my post on detecting fake Lacoste bags for more details.