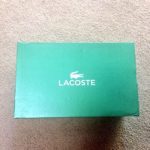 Updated 11/12/2022
Bernard Lacoste turned the family sportswear and polo shirt business founded by his father, the tennis player René Lacoste, into a major designer clothing brand. He was born on June 21, 1931 in France, and brought up there. However, Bernard attended college in the United States, transferring to Princeton as a Junior from the Lycee Jeanson in Paris. According to his obituary in the Alumni Weekly, "Senior year he roomed with lifelong friend Fred de Sibert and was in Cap and Gown Club." They also note that "despite an extraordinary work schedule, he always welcomed classmates visiting Paris and generously donated the white dress shirts for our 50th reunion."
After his graduation, he remained at Princeton for his masters degree.  He then returned to France, and followed in his grandfather Jean-Jule's footsteps by working in the automotive business for General Motors France as an engineer before joining Lacoste.
Bernard was married twice, and had three children (Jacques, Camille, and Beryl) from his first marriage with Claire Lacarriere. He was  awarded France's highest civilian honor, Officier de la Legion d'Honneur.
After succeeding his father as president  of Lacoste in 1963, Bernard Lacoste presided over the international expansion of the group by "creating a licensing program with manufacturers that made clothing with the crocodile logo available worldwide." During his tenure, Lacoste is credited with making the label more accessible to customer by bringing a wide range of colors to the cotton pique polo shirt, which had been available only in white. He also started a line of sportswear and accessories for women and in 1981 opened the first Lacoste boutique, in Paris.
In the 1970s, under Bernard's leadership, the Lacoste polo shirt became the mainstay of the Ivy League "preppy" wardrobe and by the 1980s Lacoste had a $400 million turnover in America alone. Though sales subsequently suffered a downturn, Lacoste experienced a resurgence after the recruitment in 2000 of the designer Christophe Lemaire and the development of a new stretch piqué polo shirt for women.
Bernard Lacoste remained president of the company for 42 years until September 2005, when, owing to ill health, he handed over the reins to his younger brother, Michel, although he remained honorary president until his death on March 21, 2006.
Other Resources
Obituary in the The Independent
Obituary in Women's Wear Daily