Brazilian tennis star, Gustavo Kuerten has been named the new Lacoste Ambassador for the next five years, and he will appear in Lacoste's "unconventional chic" campaign.  Here's the press release
Lacoste has announced Brazilian tennis player Gustavo Kuerten as its new ambassador for five years and will be featured in the new "Unconventional Chic" advertising campaign. The Brazilian tennis champion embodies perfectly the Crocodile brand's values of relaxed elegance, style and "joie de vivre".
Renowned for his impressive tennis career, Gustavo Kuerten – also known as Guga – shares with LACOSTE a very special link with French Open "Roland Garros". The stadium was indeed built in the 1920s to welcome the Davis Cup won by the Four Musketeers including René Lacoste, the founder of the brand. Years after, Gustavo Kuerten won the prestigious French Open three times, in 1997, 2000 and 2001 and established a strong relationship with the audience by drawing a heart on the clay court after his last victory.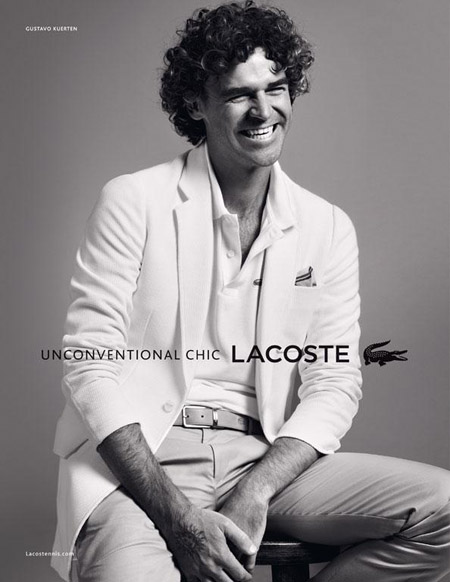 "When I was young, Roland Garros and LACOSTE were part of my dreams. Today I live this spectacular reality, it's another magical lifetime experience" says Gustavo Kuerten, "I am very proud to become a LACOSTE ambassador. For me, LACOSTE is a reference in term of style and elegance."
"We are very pleased to welcome Gustavo in the LACOSTE family of ambassadors.", says Christophe Chenut, CEO of LACOSTE. "He is one of the greatest tennis champions ever. His personality and his involvement in numerous charity activities are impressive. He has talent; he has heart, incredible charisma and an unforgettable smile."
Relying on its authentic sporting roots, LACOSTE is represented today by more than a hundred tennis and golf champions from over 20 different countries. With a strong sponsorship presence, the brand reinforces its heritage in tennis and golf through world renowned events such as the Australian Open, the Roland Garros French Open, the Barclays ATP World Tour Finals, the Alstom Open de France and the Evian Masters.