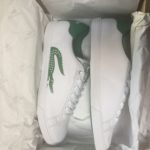 British footwear manufacturer Pentland has announced the appointment of Marc Hare as the new product director of the Lacoste Footwear Joint Venture. In January 2018, Pentland and The Lacoste Group announced a 50:50 joint venture (JV) based at the Pentland HQ in North London. The JV manages the design, production and manufacturing of Lacoste's footwear globally. Pentland continues to manage UK distribution, while Lacoste handles distribution in its main territories.
Hare joins the business after having run his own successful streetwear inspired sneaker brand, Mr.Hare, since 2008. Hare will be leading the new 'Mainline' and 'Future Concepts' product teams and working with Lacoste JV CEO, Gianni Georgiades, to support Lacoste's vision for the future of the brand.
Speaking about the Lacoste brand, Hare noted that, "Rene Lacoste's life is one of the greatest stories of 20th century sport. Lacoste is one of those brands that everybody fell in love with at a defining moment in their lives. Sneakers are a global language and culture that seemingly cannot be contained. Opportunities like this don't come around very often, so any attempt at describing the excitement erupting from within me, at joining this team, would be a woeful understatement."
He will join the business from 10th September 2018.
Note: Worried that the Lacoste sneaker you bought is fake? Check out my post on detecting counterfeit Lacoste sneakers.