As an Amazon Associate, I earn from qualifying purchases. In addition, I may earn commissions from other affiliate programs when you click on a link to an online store.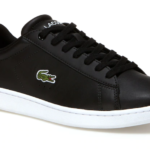 Updated: 11/17/2022
I've been getting a lot of inquiries recently about how to tell whether the Lacoste sneakers you've bought are fake, so I've decided to put together this post on how to identify counterfeit Lacoste shoes. It's important to be careful, because high-quality Chinese counterfeits are readily available, as you can see from this article. So, here's how to ensure that you are getting genuine Lacoste sneakers.
Where Did You Buy The Shoes?
Start with where you are buying the sneakers. If you bought the shoes from a street seller or on Alibaba, you can be almost certain that they are fake. Lacoste shoes are only sold at Lacoste's own stores or at certified retailers. You can determine if a store is an approved seller by checking it out on Lacoste's website. Buying from an authorized retailer, is the number one way to ensure you have Genuine Lacoste footwear.
Check The Logos
Most fakes have cheaply made crocodile logos with badly defined body parts. The crocodile should be a deep, dark green with obvious individual teeth and claws. The top jaw is smaller than bottom and is angled slightly upwards. The tail will be rounded and be pointing in the same direction as the jaw rather than at the crocodile. You can see an example of a genuine logo below.

Unfortunately, Lacoste has been confusing the issue recently by using multiple versions of the logo in different materials on shoes. This is particularly true of collaborations like the recent one with Concept.  So, if your item's logo doesn't look like the classic one pictured above, you should check it against some of the newer versions shown on my Lacoste Crocodile Logo page. While the colors differ, the quality of the logo and its coloring are still good indicators of the sneaker being genuine.
There are other logos and Lacoste branding that you should check also. Look at the Lacoste Logo from the back of a genuine sneaker shown below.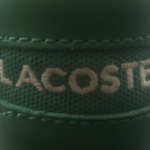 Notice the quality of the stitching on the logo. That's brings me to the next thing you need to check.
Is The Quality Of The Construction And Materials High?
Lacoste shoes can be made of canvas, PVC or leather, but they all share one thing in common: their construction and materials are of high quality. A common fault of fake sneakers is inferior stitching. Genuine Lacoste sneakers have small, even, solid stitching as shown in the example below.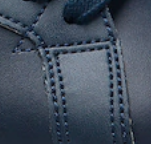 Uneven stitching or loose threads is an indication of a counterfeit shoe. A good place to check the stitching is inside the shoe, since the manufacturers of fakes often skimp on the non-visible stitching. If you see uneven stitching around the inside of the shoe, or bunching of the lining, you can be pretty sure you have counterfeit sneakers.
What Does The Label Look Like?
A Genuine Lacoste shoe will have a label on the tongue like the one shown below:
The label should have both European and US sizes. It will also have a high quality, printed logo with sharp defined edges.
Packaging
Genuine Lacoste sneakers generally come in a heavy cardboard, green box stamped on top and side with a high-quality Lacoste Logo in white. See the image below for an example, and note the quality of the printing of both the Lacoste name and the crocodile.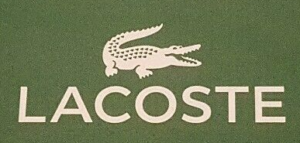 Every Lacoste shoe I have bought came in a green box. However, I've also seen boxes on the internet that are white, so you may get a box like the one below:
Inside the box, the shoes will be wrapped in high-quality, tissue paper with the Lacoste Crocodile Logo imprinted as shown below.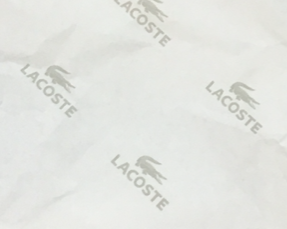 If you don't get the Lacoste box, then the shoes are almost certainly fake. Be aware, though, that empty Lacoste boxes are readily available on Ebay, Alibaba and other sites, so this is not a definitive sign of quality. However, the vast majority of the boxes sold don't include the tissue paper.
Other Resources
If you are interested in authenticating other Lacoste fashion items, check out my article on detecting fake Lacoste bags or my article on detecting fake Lacoste polo shirts. I've also written a detailed article on detecting counterfeit Lacoste items if these instructions are not good enough.