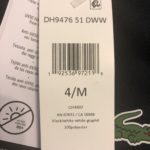 If you buy a legitimate Lacoste original polo shirt, it's price tag should have a model number or code that is made up of four different parts.
For men's shirts, the model number should begin with a code representing the design. For the original, cotton polo shirt, that design code should be one of the following:
L1212 – short sleeve pique
L1312 – long sleeve pique
For women's original, cotton pol shirts, the model number should begin with one of these design codes:
PF168 or PF168E – short sleeve stretch pique
PF368E – classic long sleeve pique
For Lacoste items other than the original polo shirts, there are multiple other design codes, but they are all generally being with one or two letter combined with a number.
The next part of the model number  is a two digit number representing where the shirt is manufactured. In the US, it is almost always 51, meaning the shirt was made in Peru.  There are different numbers for India and Europe.
The third part of the model number is a three digit or three letter code representing the color. Some examples of colors are:
001 – white
031 – black
166 – navy
107 – yellow
240 – red
132 – green
476 – bordeaux
TO3 – flamingo
NSX – lawn green
TO1 – till blue
8LX – pearl
NXU – coastal blue
CBK – aegean blue
It's important to realize, though, that there are numerous color and color combination codes, so this list is far from complete. For example, the DWW color code shown in the label above stands for black/white, white and graphite pattern on a color-block polo.
Lastly, there is a two digit code representing the size, as follows:
T3 – XS
T4 – S
T5 – M
T6 – L
T7 – XL
T8 – XXL
Thus, for example, a Men's short sleeve, pique yellow, made in Peru, size small polo shirt label should read: L1212 51 107 T4
Some examples of tags are shown below.
Editors Note
I've updated this article for 2021, since it is so popular. For detailed information on how to detect counterfeit Lacoste, see my posts on detecting fake Lacoste polo shirts, detecting fake Lacoste bags, and detecting fake Lacoste sneakers. I also have a page with more general tips on detecting Lacoste knock-offs.