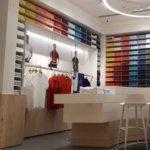 Women's Wear Daily reports:
Lacoste has begun reopening its U.S. boutiques and outlet location by implementing a slew of new operational guidelines. Eight locations throughout Texas were the first to reopen May 8, followed by additional stores in Florida, North Carolina and Ohio on May 15. Others will reopen as local mandates allow.
Lacoste is also taking two major steps to reassure customers. First, "each store will follow a cleaning and disinfecting process prior to opening and also mid-day" using a professional cleaning service. Secondly, Lacoste will be offering real-time data to their customers:
Customers will be able to scan QR codes within the retail stores that will give them live updates on how many times and when the retail store was last professionally cleaned and sanitized, as well as the store's current capacity so it does not exceed its threshold.
Read more at Women's Wear Daily.