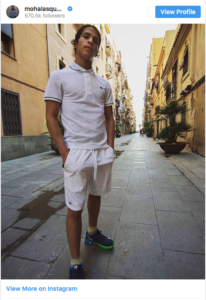 Vogue France has a sneak peak at Lacoste's latest collaboration aimed at bringing a more "street aware" style to Lacoste.  As Vogue notes:
Since their collaboration with Supreme in March 2017, which featured 90s revival style pieces, French fashion house Lacoste has been leaning more toward streetwear-inspired designs. Such an intention has been explicitly demonstrated through their latest collaboration with 23-year-old French rapper Moha La Squale, who has just released his first album titled "Bendero". The collection produces designs inspired by La Squale's own personal style, and the rapper announced both his involvement with and admiration for the French fashion house in a video posted via his Instagram. The collection will be available for purchase on October 17, the same date as Moha La Squale's next big gig at Paris' Olympia.
Read more at Vogue France.