Lacoste continues to come out with variations on their classic polo shirt. One of the latest ones is the Heritage Badge polo shirt.  This shirt has a different Lacoste badge on the front of the shirt in place of the crocodile: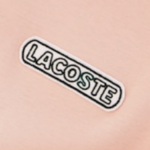 However, don't be alarmed, the classic crocodile logo appears on the back of the shirt centered just below the collar: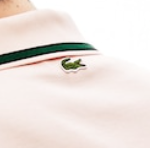 I'm definitely picking one up soon.
Remember, many of the Lacoste items sold on EBay and other auction sites are counterfeit, so it's important to know how to tell whether the Lacoste shirt you are about to buy is real or counterfeit.