Updated 9/11/2018
Up to 90% of the Lacoste items sold on EBay and other auction sites are fakes. So, before you buy one, you should look for a few obvious signs of fake merchandise. Now, here's some quick methods to detect whether the Lacoste shirt you are about to buy is real or counterfeit:
Before we start, though, if you are interested in authenticating a Lacoste bag, check out my article on detecting fake Lacoste bags. I've also written a detailed article on detecting counterfeit Lacoste items if these instructions are not good enough.
1) Check the logo – most fakes have bad logos with distorted lines and stitching. They also often use the wrong color thread. The crocodile should be dark green on a white patch, not the lighter green like the inauthentic logo shown below. The claws and teeth of the crocodile should be distinct, and its top jaw should be smaller than the bottom one.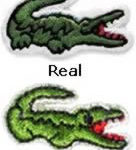 2) Check the sizing – Lacoste uses numbers for sizing, not small, medium and large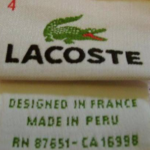 3) Check the Logo Alignment –  The Lacoste Logo lines up with the second button of their polo shirts. It never lines up with the bottom of the placket.

4) Check the Fabric – Most fakes are made with much thinner cloth than genuine Lacoste shirts. If you put your hand inside the shirt, and you can see it through the cloth, then it's almost certainly a fake. You can also check the weave to see if it matches Lacoste's exclusive "petit pique" pattern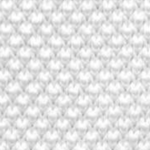 For other tips, here are some articles from the web on detecting fake Lacoste items:
http://www.moneybluebook.com/how-to-spot-a-fake-lacoste-polo-shirt-and-other-pirated-clothing/
http://how-to-know.info/how-to-know-a-fake-lacoste/
http://reviews.ebay.com/How-to-tell-if-your-Lacoste-is-Fake_W0QQugidZ10000000002999225
http://www.ehow.com/how_4723208_spot-fake-lacoste-shirt.html