As an Amazon Associate, I earn from qualifying purchases. In addition, I may earn commissions from other affiliate programs when you click on a link to an online store.
Updated 05/27/2020
There are a lot of fake Lacoste items for sale on the internet, so how do you ensure you are not buying a counterfeit Lacoste polo shirt? Your best method to ensure that you are really buying an original Lacoste polo shirt is to buy it from the Lacoste Store. However, if you are buying a  Lacoste polo shirt from someone else, you should look for a few obvious signs of fake merchandise. Here's some quick methods to detect whether the Lacoste shirt you are about to buy is real or counterfeit:
1) Check the logo – most fakes have bad logos with distorted lines and stitching. They also often use the wrong color thread. The crocodile should be dark green on a white patch, not the lighter green like the inauthentic logo shown below. The claws and teeth of the crocodile should be distinct, and its top jaw should be smaller than the bottom one.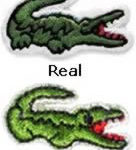 2) Check the sizing – Lacoste uses numbers for sizing, not small, medium and large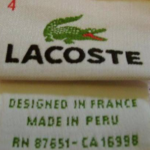 3) Check the Logo Alignment –  The Lacoste Logo lines up with the second button of their polo shirts. It never lines up with the bottom of the placket.

4) Check the Fabric – Most fakes are made with much thinner cloth than genuine Lacoste shirts. If you put your hand inside the shirt, and you can see it through the cloth, then it's almost certainly a fake. You can also check the weave to see if it matches Lacoste's exclusive "petit pique" pattern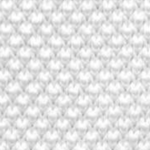 5) Check the Buttons – Real Lacoste buttons are usually mother-of-pearl. The shape is flat and slightly saddle-like in the middle. There are 2 holes for needles (on the upper and lower parts). There is usually no writing on the button. A genuine button will have a clearly defined rim around it.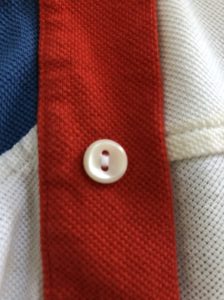 6) Check for Elevations – Men's T-shirts have small side elevations.
7) Check the Label – On a new Lacoste shirt with an ironed on label, the Lacoste label  will look like the example shown below. Most fake Lacoste makers don't do a thorough job on the label. In particular, the lettering and logo are usually have blurred edges.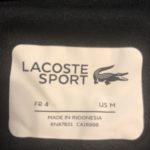 8) Check the Tag – An authentic Lacoste shirt will come with tags like the ones below. Again, this an area in which most forgers don't put in a lot of effort. If your item doesn't come with tags like the ones below, then it's not authentic.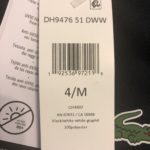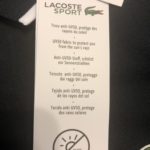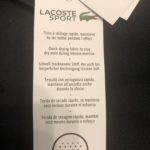 Other Resources
If you are interested in authenticating a Lacoste bag, check out my article on detecting fake Lacoste bags. I've also written a detailed article on detecting counterfeit Lacoste items if these instructions are not good enough.