Here's a simple four step process for detecting whether the women's Lacoste tote bag or purse you are buying is a genuine Lacoste or a cheap fake.
Where Did You Buy The Bag?
Start with where you are buying the bag. If you bought the bag from a street seller or from a eBay, you can be almost certain that it's a fake. Lacoste bags are only sold at Lacoste's own stores or at certified retailers. You can determine if a store is an approved seller by checking it out on Lacoste's website.

Is The Quality Of The Construction And Materials High?
Lacoste bags can be made of canvas, PVC or leather, but they all share one thing in common: their construction and materials are of high quality. A common fault of fake bags is inferior stitching. Genuine Lacoste bags have small, even, solid stitching. Uneven stitching or loose threads is an indication of a counterfeit bag. Genuine Lacoste bags will also have quality zippers, fastenings, and handle attachments that are neatly and securely sewn in. An example from a genuine Lacoste bag is shown below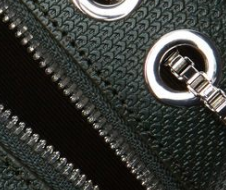 Is The Lacoste Logo Correct?
All Lacoste bags have a genuine Lacoste logo that is either printed on the bag (canvas) or attached (leather and PVC). Genuine Lacoste logos are of high quality, with defined lines. Fakes also tend to have shapes that are not correct. An example of a genuine traditional logo on a leather bag is shown below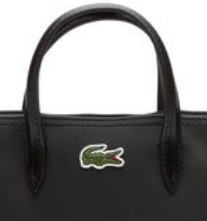 Lacoste bags can also have monochrome logos. An example of a monochrome logo on a canvas bag is shown below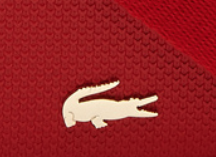 Sometimes, as shown below, the monochrome logo matches the bag's material.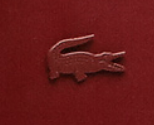 Does The Bag Reflect Lacoste's Design Sensibility?
If you browse through the Lacoste website, you will soon become familiar with Lacoste's design sensibility. Lacoste tote bags are all narrower at the bottom than the top, and have large U shaped straps. The logo on the bags is usually at the top and centered. The leather bags don't come in outrageous colors, and the purses also have very traditional designs. After you have looked at a few examples, you will have a good idea of whether Laooste would have designed the bag you are looking at buying.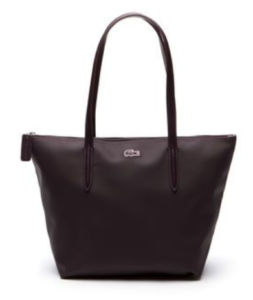 I hope these tips are helpful, and that they will prevent you spending your hard-earned dollars on phony merchandise.