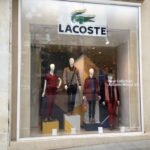 Even though Covid-19 is dominating the news, we're trying not to forget about fashion. So, here's a look back at Vogue's review of Lacoste's Fall 2020 ready-to-wear collection.  In Vogue's words:
Golf bags, kiltie loafers, and putting-green argyles were all over the Lacoste fall 2020 runway. No, Louise Trotter has not abandoned the brand's tennis heritage for its neighboring sport at the country club—through these golf-inspired pieces, she is paying homage to René Lacoste's wife, Simone de la Chaume, a champion golfer whose legacy has been overshadowed by her husband's embroidered gator. In De la Chaume's heyday in the 1920s, shin-grazing pleated skirts and deep-V knitwear constituted the on-green look for women; here, Trotter refigured these silhouettes to be lighter, breezier, and in flashes of pastel colors. Styled as total looks—that totally evoke stylist Suzanne Koller's own wardrobe—these golfing ensembles had a quirkily modern feel without veering too far into costume, even if the miniature golf bags came a little close.
Read more on the collection at Vogue.