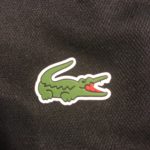 Latest Lacoste News
Felipe Oliveira Baptista, who was formerly Lacoste's head of design, debuted his first collection for Kenzo at Paris Fashion Week. According to reports it was received well, if not with a lot of enthusiasm. The Mainichi commented:
Though it was not a triumph, the Portuguese-born Oliveira Baptista — who had previously revived Lacoste — put out a solid and saleable collection of men's and women's designs that successfully pushed the house toward a focused and minimalist mood.
The review by the New York Times was similar. Read more at The Times or The Mainichi.
Latest Lacoste Sales
This week Lacoste are focusing their promotion efforts on their Heritage Collection, which they describe as "chic with a twist."  You can see the pieces at the Lacoste Store.