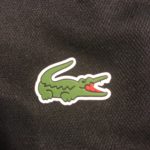 Lacoste premiered its Spring 2021 Ready To Wear Collection this week. It continues Lacoste's recent emphasis on "street style" and re-casting designs from Lacoste's long history. Overall, the coverage is positive, although as a commercial proposition it doesn't really matter, since the collection will have a limited release. Here's a quick round-up of the coverage.
Vogue, after noting Louise Trotter's comments on the difficulty of working in a time of Covid-19, reports:
Most of the clothing has an athleisure aspect—a nod to the brand's heritage on the tennis court and off it, the designer explains—and made from a combination of existing fabrics, vintage and archive pieces, and embroideries by the couture house Maison Lemarié. Vintage track jackets became trousers or were spliced together into chic trenches, the sort of hybridization that streetwear acolytes will be familiar with.
HypeBae focuses on the vintage feel of the collection:
For the Spring/Summer 2021 season, Lacoste's creative director Louise Trotter has unveiled a range of items made using deadstock designs from the brand's archive. Showcased through a lookbook featuring street-cast models in the city of Paris, the SS21 collection fuses vintage pieces with new creations through upcycling.

Titled "#CrocCouture," the new lineup marks the French label's first attempt at marrying haute couture with sportswear.
Lastly, High Snobiety focuses on the re-working of the Crocodile logo:
Lacoste's creative director Louise Trotter has reworked the label's iconic crocodile logo across a range of exaggerated and abbreviated classics for the SS21 collection, limited to 200 pieces worldwide.

Code-named "Croc-couture," Lacoste invited embroidery and feather specialists Lemarié to add some savoir-faire to the sporting apparel resulting in cream sweatshirts and oversized white piqué polo shirts embroidered with geometric crocodile appliqué made from vintage jacquard labels.
I'll update this post as we see more coverage.