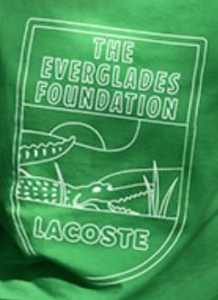 Lacoste has launched a new clothing line to benefit the Florida Everglades. It features a unique green color created by Lacoste in collaboration with the Pantone Color Institute called "Forevergreen by Lacoste." While I expect this to increase the confusion about whether the Lacoste Logo is a crocodile or an alligator, it's all for a good cause. According to the Florida News Tribune:
The limited collection, which features a new shade of green, went on sale Friday. Lacoste also designed a custom logo featuring its iconic crocodile in Everglades habitat. The green collection will include the popular polo-style shirts. Prices range from $60 to $110, according to a press release from the company.
Lacoste also announced that "a portion of the proceeds from the collection's sales will support The Everglades Foundation's mission to restore and protect the Everglades through science, advocacy, and education."
You can buy the new line at the Lacoste Store now.