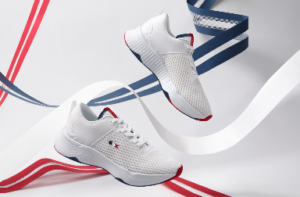 Note: Worried that the Lacoste sneaker you bought is fake? Check out my post on detecting counterfeit Lacoste sneakers.
Lacoste is launching a new Court Drive sneaker this Fall. According to Lacoste, "the brand new Court Drive trainer was made to enhance your freedom of movement." According to Sourcing Journal, this is one of five new sneakers that Lacoste will be releasing for the Fall/Winter collection. Here's the press release:
In a perfect blend of technicity and style, the Court Drive proudly assumes its inspiration rooted in running and tennis. With its streamlined design and sculpted sole, this trainer will not go unnoticed. Subtly referencing a tennis net, the honeycomb-textured vamp references the sports heritage of Lacoste.

The design and materials, which include mesh, were chosen to bring freedom of movement and an unprecedented sensation of lightness.
A tricolour crocodile on the exterior side of the upper perfectly complements the subtle touches of blue, white and red on the tongue and outsole.

A sculpted raised midsole increases the feeling of lightness and stability derived from the Court Drive. On the outsole, raised graphics inspired by the texture of a tennis net reinforce the sports heritage of this lifestyle trainer.

Available in seven different colours, the Court Drive's palette ranges from efficient and understated white to bold yellow with on-trend fluorescent colour blocks that will delight colourmatching fans.

True to the athleisure trend combining comfort and style, the Court Drive will win over trainer enthusiasts everywhere with its unique, bold silhouette.

The Court Drive will be available on 1 July in Lacoste networks and shops and on lacoste.com, from €110.