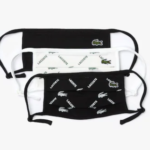 Updated 12/04.2020
Lacoste announced that it is opening a new store at the Icon Outlet at the O2 in London. For a limited time, to celebrate the new store's opening, they are offering a chance to win "one year's supply of iconic Lacoste polos."
Here's the press release:
Icon Outlet at The O2 has announced international designer brand, Lacoste, is the latest retailer to sign for its newest outlet store at the destination.  As one of the leading shopping destinations in the capital, Lacoste is set to join Icon Outlet's robust retail offering of over 60 brands including, Hugo Boss, Tommy Hilfiger, Levi's, GAP, Nike and adidas.

Lacoste will open its latest 1770 square foot store on the upper level adjacent to Ted Baker and Calvin Klein, from 10am on Wednesday 2 December. The store will stock Lacoste's apparel lines, accessories and fragrances for men, women and children, and the brand remains an official partner of the Nitto ATP Finals which recently took place at The O2 behind closed doors due to the national lockdown.

Jamie Givens, CEO for UK & Ireland at Lacoste, commented: "We are thrilled to have signed for our latest space at Icon Outlet. At Lacoste we have always been committed to designing products that combine innovation, quality and elegance. Icon Outlet embraces these notions across their retail portfolio and we look forward to showcasing our premium range of unique and original lifestyle offerings for women, men and children."

Marion Dillon, leasing firector for Icon Outlet, added: "Lacoste is a fabulous addition to our international brands here at Icon Outlet … Lacoste is an anchor brand and their signing is evidence that Icon Outlet remains attractive to international brands interested in reaching our diverse customer base."

Janine Constantin-Russell, managing director of Icon Outlet, added: "We are delighted to be reopening again with Lacoste now joining our family of  brands."
See the complete press release at Retail Times UK, or for more coverage see Retail and Leisure International or Fashion United UK.