As an Amazon Associate, I earn from qualifying purchases. In addition, I may earn commissions from other affiliate programs when you click on a link to an online store.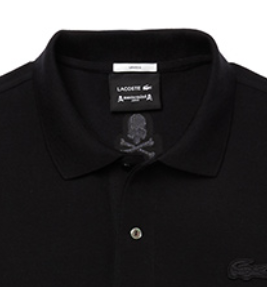 Updated 08/21/20
The Japanese site Fashion Snap has more details on how much you will be paying for these items in Japan and where they will be available:
Available at Lacoste Shibuya store, Lacoste Grand Front Osaka store, Lacoste official online store, etc. … Sweat hoodie with black crocodile logo and crossbones motif (24,000 yen), polo shirt (18,000 yen), T-shirt (12,000 yen), shoes based on Lacoste's classic model "Carnaby" ( 20,000 yen/all tax not included). Two colors, white and black, are prepared for each item.
Read more at Fashion Snap.
Original Article
Lacoste and Mastermind JAPAN are collaborating on a new "Underground Tennis" collection.  According to HypeBeast:
Founded in 1997 by Masaaki Honma, mastermind JAPAN is known for its eye-catching designs and its instantly-recognisable skull logo. This collection offers a more monotone outlook from the Japanese brand however, and merges it with Lacoste's penchant for sporty aesthetics.

Consisting of a hoodie, polo shirt, T-shirt and a pair of sneakers, the black and white shades throughout the collection results in a premium feel. Lacoste's crocodile logo comes in a special black specification, while the Japanese brand's crossbone motif appears on the back of each item.
The collection launches on August 21, and will be available in Lacoste Japan's online store. Read more at HypeBeast.