Retail Gazette reports that: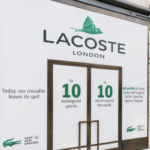 Last week the premium sportswear retailer unveiled a collaboration with the Save the Species charity, which saw its iconic crocodile logos replaced with selected endangered species as part of International Day for Biological Diversity.
All proceeds collected by the UK flagship store and eight other international stores will go towards the International Union for Conservation of Nature (IUCN) charity.
The collaboration offers 10 limited-edition polo shirts, representing the number of endangered animals known to remain in the wild.
To celebrate the collaboration, Lacoste transformed its Covent Garden store by replacing the crocodile with the Yemeni Mouse-Tailed Bat.
Read more at https://www.retailgazette.co.uk/blog/2019/05/retail-gazette-loves-lacoste-save-species-collab/.