Editor's Note: As always, the counterfeit Lacoste keeps coming, so before you buy make sure you check out my articles on detecting fake Lacoste shirts and detecting fake Lacoste bags, or my detailed discussion of how to authenticate Lacoste.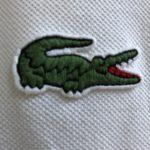 On October 10th, Lacoste filed a complaint in the U.S. District Court for the Southern District of Florida against dozens of online merchants accusing them of violating Federal trademark laws.
According to the complaint, the thirty-seven  defendants created multiple aliases to sell counterfeit Lacoste goods through e-commerce stores. Lacoste claims the counterfeit items are of a lesser quality and will  confuse customers into thinking the defendants' fake goods are real Lacoste products:
"Defendants are using Lacoste's famous brand name and trademarks to drive internet consumer traffic to their e-commerce stores operating under the seller IDs, thereby increasing the value of the seller IDs and decreasing the size and value of Lacoste's legitimate common marketplace at plaintiffs' expense"
The company alleges the defendants are causing irreparable harm. In addition, Lacoste claims the defendants are making substantial profits and are "likely to transfer or secret their assets to avoid payment of any monetary judgment awarded to plaintiffs." Lacoste is seeking an injunction to stop the defendants from selling the counterfeit items and disable the seller IDs.