As an Amazon Associate, I earn from qualifying purchases. In addition, I may earn commissions from other affiliate programs when you click on a link to an online store.
Novac Djokovic has been cruising through the 2018 US Open and he's been doing it in style wearing a shirt created just for him by Lacoste. Now, though, you too can buy the MEN'S SPORT PRINT TECHNICAL JERSEY POLO – NOVAK DJOKOVIC ON COURT PREMIUM EDITION from Lacoste.The shirt  is an ultra-dry jersey polo featuring raglan sleeves, a ribbed two-button polo collar and a breathable mesh panel on the back. It also has an exclusive Novak Djokovic logo, and (of course) a green crocodile logo on the chest.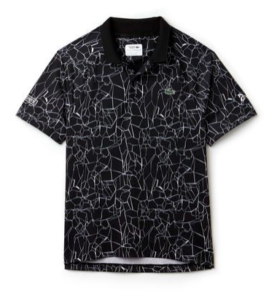 Best of all, it comes in a wild, eye-catching graphic print. Get one before they are retired, and you have to live with the regret.