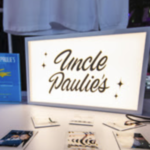 Lacoste has released a clothing line in collaboration with Uncle Paulie's Deli in Los Angeles. The collection will only be available in Lacoste's Melrose Place store at 8481 Melrose Place. Here's how Lacoste describes the collection:
Born in Queens, Paul James and fellow New Yorker Jon Buscemi bought the iconic Italian-American New York deli experience to Los Angeles, opening the first Uncle Paulie's Deli location in 2017. Lacoste partnered with the eatery for a special collection of clothes and accessories, which launched exclusively at the Melrose Place Experiential Pop-up.
Read more at Lacoste's 40 Love.