As an Amazon Associate, I earn from qualifying purchases. In addition, I may earn commissions from other affiliate programs when you click on a link to an online store.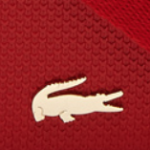 This Spring, Lacoste's signature green crocodile logo will receive triple makeovers from three artists, Samuel Borkson and Arturo Sandoval III of #FriendsWithYou, #Jeremyville, and #JeanMichelTixier. Known for their optimistic graphics and positive world view, they have translated the French house's timeless classics style with joyful, off-beat, and colorful range of ready-to-wear pieces in three limited-edition collections.
Each collection consists of the legendary polo shirts, essential T-shirts, and sweatshirts join caps, watches, leather goods, sneakers, and fragrance bottles which are reinvented with upbeat style.
Read more at https://daman.co.id/lacostes-signature-crocodile-logo-gets-a-makeover-by-three-artists/.