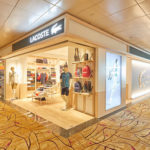 On March 20th, Lacoste announced the reopening of a Le Club duty free store in Singapore Changi Airport Terminal Two. The company says the 700 square foot store aims to "offer a premium shopping experience to local and international travelers."
Currently operating more than 170 travel retail boutiques worldwide, Lacoste is looking to strengthen and expand its DF&TR business into new geographical areas and develop new channels such as cruise and online.
It is also exploring new ways of connecting with consumers before, during and after trips.
Read more at https://www.trbusiness.com/regional-news/asia-pacific/lacoste-reopens-singapore-changi-travel-retail-store-in-terminal-2/186637.