Updated 08/07/2020 – More details from the Moodie Davitt Report. The advertising campaign for Match Point "stars French actor Arnaud Valois, who appeared in the Cannes 2017 Prix du Jury-winning film '120 Beats per Minute.' He is joined by French actress and former rhythmic gymnast Souheila Yacoub, who recently appeared in Gaspar Noé's film 'Climax'. The pair meet during a chance encounter in Paris and engage in a game of dance, movement and sensuality, eventually reaching a 'match point' at the culmination of the campaign film."  Here's the ad:
Lacoste has introduced a new men's perfume the will be available in its Travel Retail locations.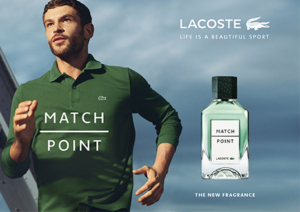 According to Duty Free News International:
Lacoste has unveiled its new fragrance for me, Match Point, characterised by green notes and a woody base.

Supported by a campaign featuring actors Arnaud Valois and Souheila Yacoub, the new perfume comes in a glass bottle adopting all the codes of tennis that the brand holds dear.

The shape of the bottom evokes a tennis ball at match point, leaving its mark on the clay.
Both perfume and travel retail have become increasing important to Lacoste. Read more at DFNI.