As an Amazon Associate, I earn from qualifying purchases. In addition, I may earn commissions from other affiliate programs when you click on a link to an online store.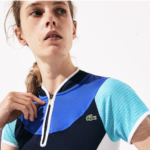 Check out the Lacoste Sport line at the Lacoste Store. It includes multiple new items including a new Novac Djokovic printed breathable polo shirt in teal.
Items in the Women's Collection include a Women's sport, breathable polo shirt in multiple blues and teal.