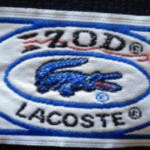 Izod, the perennial runner-up to Lacoste, has launched a new ad campaign that marks an attempt to make the brand more relevant year-round and  which is the most expensive advertising series that they have every done. The theme of the ads are typical menswear cliches, and Izod recruited Aaron Rogers and Colin Jost, from Saturday Night Live, to bring the spots to life:
"The brand is uniquely strong in the spring and summer, around golf and around the beach holiday, summer holiday vacation. We have a really great strength in those businesses," said Mike Kelly, CMO, PVH Heritage Brands Marketing and chief innovation officer, PVH. "I want to make sure that we are seen year-round and that we get our due in the fall as well. Aligning with football, aligning with evening parties and get-togethers helps us do that."
Read more on the campaign at Adweek.