As an Amazon Associate, I earn from qualifying purchases. In addition, I may earn commissions from other affiliate programs when you click on a link to an online store.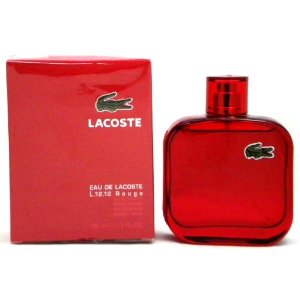 Lacoste has launched a new addition to their men's fragrance line called Rouge. The fragrance is based on a blend of three spices: ginger, black pepper and cardamom. It also includes acacia wood, golden Laos benzoin and labdanum. The result is supposed to be a masculine, energetic scent. You can read highly positive reviews of the new fragrance at News4Jax.com and Forbes, and you can buy it here.
Rouge is the latest addition to Lacoste's line of men's perfumes which previously included Blanc, Bleu and Vert.  I've not been able to find good sales figures for Lacoste's perfume line, but you have to wonder if this is one brand extension too far.