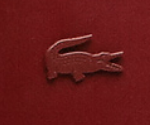 Lacoste has named Robert Aldrich as  North American CEO and Pedro Zannoni as CEO of Latin America. Aldrich comes to Lacoste from the Ermenegildo Zegna Group, where he most recently served as CEO of the Americas region. Prior to Ermenegildo Zegna, Aldrich worked at Giorgio Armani. Zannoni joins Lacoste from Asics Corporation, where he served as president of Asics' Latin America region since 2018. Previously, he worked fat Adidas. Both Aldrich and Zannoni will report to Jean-Louis Delamarre, executive vice president, global markets and distribution.
Fashion Network News quotes Delamere as saying:
"We are delighted to announce today the appointment of Robert Aldrich and Pedro Zannoni. These two arrivals illustrate the brand's ambition to strengthen and accelerate our brand penetration and equity in these regions."
Read more at Fashion Network News.
Updated 05/29/2020
More coverage of these changes can be found at Just-Style, Textile World Magazine, Fashion United, and Fashion Weekly.