As an Amazon Associate, I earn from qualifying purchases. In addition, I may earn commissions from other affiliate programs when you click on a link to an online store.
Lacoste has signed a nine-year deal to be the official apparel provider of the Presidents Cup, the biennial matchplay tournament which pits the best golfers from the USA against a Rest of the World team, excluding Europe.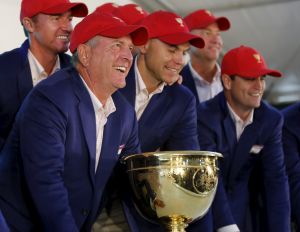 The French brand will sponsor the event through 2025, beginning with the 2017 edition in New Jersey. In contrast to golf's other international matchplay event, the Ryder Cup, both Presidents Cup teams' apparel will be provided by one brand. In addition to producing outfits for the players and officials. Lacoste is creating a co-branded Presidents Cup collection for fans of the event.
The financial terms of the five-cup deal were not released.